About Us
Founded on July 14, 2007, the Meteorite Association of Georgia was established to bring together meteorite enthusiasts both in Georgia and beyond to pursue their common interest.
Our Mission Statement
---
| | |
| --- | --- |
| Trading | - each member meeting includes time for trade |
| Ethics | - the highest standards of integrity in representing the field |
| Awareness | - speakers are available from within the group to lecture on meteorites |
| Children | - education within the group is important, and inspiring children is a priority |
| Hands-On | - field trips for specimen hunting, museum visits and general research |
| Inclusive | - this is not an elitist group... come one, come all |
| Networking | - camaraderie and networking within the group |
| Group Acquisition | - on a voluntary basis, members occasionally pool resources... |
---
How it all began...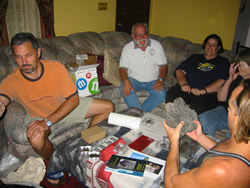 Anita Westlake and Dave Gheesling met in May 2007 to discuss the formation of a group of local meteorite enthusiasts, after Dave found her name on the internet as a local meteorite enthusiast. Through Anita's local relationships, the Meteorite Association of Georgia (MAG) subsequently met for the first time at Jerry Armstrong's house in July 2007 with several charter members including Jerry, Harlan Trammell, Martha Brown, Tim and Bunty Cantwell, John Iacullo, Barry Gheesling, Anita and Dave.
Establishing a quarterly meeting schedule from the outset, the group met at Dave's house in October 2007, Anita's house in January 2008 and Dave's office in April 2008. As the group has already grown much faster than expected, all of these venues have been outgrown and the July 2008 meeting is tentatively slated to take place at the new Tellus Museum facility in Cartersville.
As our Mission Statement indicates, MAG members (many of which do not live in Georgia) have a variety of motivations for participation in the association. These include but are not limited to networking, educational outreach, specimen trading, group acquisitions, camaraderie and the like. One common goal throughout the group is the growth of the association through the increased awareness of meteorites and meteoritics, and several members devote a considerable amount of time, energy and other resources in speaking to local schools and other organizations to advance this cause.
You can read a more detailed account of the creation of MAG in Dave Gheeslings article published on IMCA Insights and in the November 2008 issue of METEORITE! magazine.
A few of our current members...
And this is just the tip of the iceberg as we continue to rapidly grow.
You can see all of our members on our Membership List page.
Join MAG now!

MAG is open to all interested parties who share the broad vision outlined in our Mission Statement above, and the minimal annual dues are intentionally not cost prohibitive.

Please fill out our application form if you are interested in joining the Meteorite Association of Georgia!